Golf Course Update
Course Update - 13th April 2019
Can anyone switch the spring warmth on?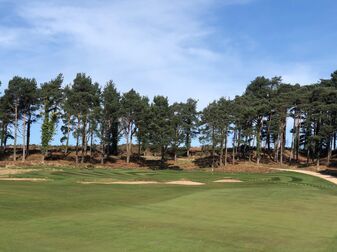 Almost every morning I get in the car and the first thing I hear is a ding from my car telling me its under 3 degrees and the problem with that is that the grass is still thinking it is December. Anyway, that's my moan over, I have been told by my wife to think positive and remember that the summer and the grass growth isn't far away.
At this time of year the greens are becoming a little bobbly and I feel I should mention a couple of points on why this happens and what we are doing to rectify this situation. The bent grasses that are being sown in to our greens is taking very well and at this time of the year still shows some growth, however the poa is still dormant, equalling uneven growth of 2 grasses. Things we are doing to combat this include:
We are using a strain of Nitrogen that will help the poa move in colder weather, which is helping, but weather remains a massive factor in grass growth.
We have also set the verti-cut units (also known as groomers) to stand the lateral bent growth up. We then cut the greens after this operation.
Top dressing little and often to level the surfaces up. (Half a tonne of 70/30 rootzone per green)
Height of cut has been bought down to 4.5 mm
More frequent hand mowing as we feel they give a tighter cut. This is far more time consuming which is an issue but we will continue to prioritise this when time permits.
The fairways are my biggest concern out on the course at the moment. If I'm being honest, whilst I loved last summer from a weather perspective, like many other courses, from a grass coverage for the start of this season, it didn't help us one bit. Our fairways over the years have just been left to do their own thing. The issue with that is, when we had the hot summer last year, the grass burnt off with the heat and then the recovery is very hard due to the poor sub soil and grasses on our fairways. I am probably being a little critical of them, but trying to get grass to grow back on bare soil with a high organic matter content is very hard. Over the last couple of years, we have started to use more seaweeds and upped the amount of aeration, which will help eventually, but it's a long process. I would also love to hollow core, over seed & top-dress them, like we do the tees greens and approaches, however you are talking 10's of thousands of pounds and this money can be better spent elsewhere at present. Just to run through where we are at with the fairways:
Height of cut - 15mm
Verti-drained all fairways with 1" tines
Sprayed with a N P K mix fertiliser
Sprayed with a wetting agent, key to retaining moisture in the leaf and therefore improving drought tolerance
Over seeded in October 2018 & again in April 2019
Bare areas top-dressed
The winter programme has gone very well for us and as it is very easy to have short memories and forget quite how much we did, I thought it would be worth a recap on the works we have undertaken at Broadstone this winter.
1st Hole Tree Work - This has opened up the green to wonderful light and a lot more airflow. Once the sun lifts over the houses right of the green the sun is on the green, whereas this time last year it would be in the shade most of the day. This should benefit the green Immensely from grass growth to health of the green.
2nd Tree Work - This is a very similar reason to why we did the work on the 1st, but also the area was over populated with dead or unwanted, unhealthy trees. The area will be left to naturally come back but we will be working on the first few yards closest to the green to bring back as run off.
10th & 11th Bunkers - This was one of the green keeping teams favourite projects. The bunker works have transformed both holes. I hope you will all agree and are enjoying playing them.
10th Green Drainage - This has worked very well. This green has been a problem over the years and we are already seeing the benefit's of it now having good drainage. The green has been in play over the past couple of months during periods of rain when it would usually be sad very wet and being damaged by every golfer using it.
Turfing - We have also been dealing with many bare areas around the course. Some of these areas have to be complete more often than others, due to high walk wear. This year when we turfed we got hit at with a weekend with some very warm weather and an irrigation electrical that gave me a few headaches, however, with daily hand watering, some feed and some wetting agent, despite the lack of consistent growth, the turf is now bedding in very well.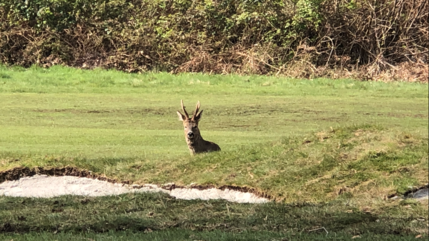 A deer sat sun bathing on the practice ground.
Masters week is now upon us. This is my favourite time of year and I love looking at a golf course that is covered in green paint and is only played on a handful of times outside the competitions! In all seriousness though, it is interesting just how far they go in terms of course set up,and below I have put a link to a video of them setting the course up for the Masters in 2018. At one point there were 17 mowers on a fairway! These fairway mowers cost roughly £45,000 and also need a trained person to sit on them as well and remember this is only to cut fairways, it would be fascinating to see whole range of machinery for all the others jobs as well. For a bot of perspective, I have also put a link to some drone footage of the course in its 'out of season state. It is quite long but well worth a watch.
Drone footage when the course is not at its best
The second link just goes to show that it is very hard to maintain a course to that standard even when you have a bottomless pit of money. Don't get me wrong, I love watching the tournament, it's just hard for all of us when a select few golfers feel their course should be the same, especially at this time of year!
Lastly can I ask you all to keep on top of repairing your pitch marks and replace your divots
Kind regards
Paul